USA Martial Arts Arizona is proud to announce it's next education, cultural and training tour of Asia. This trip is tentatively planning to include
Japan, Korea and an extended option for China.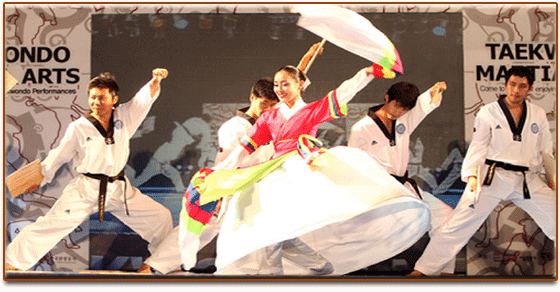 In 2006 USA Martial Arts toured and trained in China: The Great Wall, the Shaolin Temple, Xian and much more. In 2007 USA Martial Arts was proud to participate and compete in the 1st World Taekwondo Culture Expo in Korea. USA Martial Arts students performed brilliantly, winning numerous gold medals in the international competition.
In July 2010 a select group of students will have the opportunity to attend the 4th World Taekwondo Culture Expo event, train and tour Japan and China. Contact Master Nottingham today if you are interested in attending.
Tentative plans are in the works to visit and train in Hawaii, Japan and Korea.
Experience JAPAN, CHINA, KOREA Cultural Expo
This year, USA Martial Arts Japan - Korea Culture Trip will be planned for July. Jeju Island and Busan City in Korea. Visit World Taekwondo Headquarters. The event includes tours, cultural experiences, Taekwondo performances, and a Taekwondo tournament, with Sparring and Poomse competition.
Lodging and meals are provided for, as well as transportation. Some of the hands-on cultural experiences include: making kimchi, Samulnori (traditional Korean music), and learning traditional dance and games.
We encourage our students and families to attend this event, not only for the valuable competition experience, but also as an opportunity to experience some of the history and culture of our sport, art and way of life.
Who : All students and family members
When : July 6 ~ 16 2010 10days
Fee range : $3600 - $4600
Registration Deadline : end of May
Tour Information : Ask Master Nottingham
*Fee Included: Hotel, meals, all transportation, events and cultural experiences, plus T-shirt etc.
USA Martial Arts Arizona Cultural Educational Training Tours
4757 E. Greenway Suite 107A, Phoenix Arizona 85032
Tel: (602) 896-8721
Email:info@usa-martialarts.com